<![if !vml]>

<![endif]>Small update Oct 2010-Sandra Scott Cook
                                                                   John MacIntosh- Ancestors Addie McLellan Carter, Stena Carter Cook
                                                                                                                                                <![if !vml]>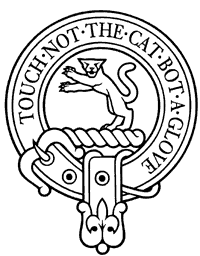 <![endif]>
                                                                                                                                                                                        MacIntosh
                                                                                         Information on MacIntoshs almost entirely taken from Ross Dickson's research at  http://www3.ns.sympatico.ca/rossdickson/
The MacIntoshes of Black River
Kent County, New Brunswick
In 1816, four men and their families left the Scottish highlands to make better lives for themselves in the colonies of British North America. After spending a brief time in Lower Canada, they settled near Buctouche in eastern New Brunswick. They obtained grants of land and proceeded to cut farms from the forests previously inhabited by Micmac natives. By times they called their settlement Glenelg in memory of the Scottish parish they had left, and by times they called it Black River after the valley in which it was situated.
By the end of the 19th century the tide of Scottish settlers to the area had ebbed, and many had moved away to more prosperous parts of the province, country, and continent. The Acadians who had colonized the area two hundred years before the Scots remained after they left, and what was briefly Glenelg became St-Pierre-de-Kent -- a name which it retains today. The river is still officially "Black River". It lies in Wellington Parish of Kent County, New Brunswick, Canada.
Ross Dickson is descended from David MacIntosh, one of those four men. According to tradition handed down in Mr. Dickson's' family, David arrived in Canada with his widowed mother Euphemia, his new bride Betsey, and all of his grown brothers and sisters, including  brother Norman MacInctosh,  most of whom settled in Kent County as well. Reconciling this tradition with the documentary evidence has been tricky, but here are some of the fruits of that research:
Most of the above information was taken word for word from Ross's site however I did change the last paragraph above slightly.
I got the directions below from Mr. Dickson if any of our East coast Relatives would like to get "roundtuit" and take some photos of the MacIntosh or McLellan graves. Please share with us if you do.
"To get to the MacIntosh Hill burying ground, take Route 15 from Moncton to near Shediac, thence Route 11 north to the first exit north of Bouctouche, exit to the right (probably marked St. Maruice and St. Pierre), at the stop (or yield) sign, turn right, and in about 100 yards, turn left, travel about 300 yards and turn left again; the burial ground is on your right with the entrance to it along the right hand edge of the lawn of the first (and only house) on the right." I don't have similar directions to the Galloway cemetery, sorry.  Your best bet might be to find some friendly native in Rexton and ask for directions to West Galloway."
<![if !supportLists]>1. <![endif]>John MacIntosh, born ab 1740 in Scotland, died 1802 +/- in Scotland. See website for further information
       He married Euphemia unknown her surname may have been Stuart. She is believed to have died in 1829. She was the first white woman buried in what was known as the MacIntosh Burying Ground, near Buctouche, N.B .
"John MacIntosh was one of the Highlanders recruited by James Wolfe, when he was a young major at Fort Augustus - near Inverness - in charge of keeping peace among the clansmen after the battle of Culloden. John fought under Gen. Wolfe at Quebec (1759) & lost a leg. He returned to Scotland, married Euphemia, & sired eight children. He never came to Canada again, but after his death, his widow & the eight grown children came to Canada to settle."
"They had been granted lands on the Ottawa River, but when their ship reached Quebec & later Montreal, the Indians were very war-like. Travel was all by trail or canoe, & the Indians were ambushing canoe travellers from the banks of the rivers. The family stayed in Quebec for two years, and were influential enough to have their grants changed to a new location in Kent Co., N.B. The first house was built near Grandpa MacIntosh's old home at Black River. Their grant was 500 acres of land and forest."
                                                                                                                Children:
                                                                                                i               John MacIntosh."John did not accompany the family, but went west & settled in Glengarry," probably Glengarry County, Ontario
                                                                                                ii              Donald MacIntosh
                                                                                                                                He married Catherine McCrimmon .
                                                                                                iii             Finlay MacIntosh (1773-1867).
                                                                                                                                He married Ann Frazer
                                                                                                iv             Angus MacIntosh Angus was said to be a university graduate and to have practiced law in Richibucto..
                                                                                                                                He married Ann Campbell
<![if !supportLineBreakNewLine]>
<![endif]>
                                                                                                v              David MacIntosh, born 1790, died Sep 12, 1885, buried on MacIntosh Hill, Black River 3km fr Bouctouche. Ross Dickson Descended.
                                                                                                                                He married Elizabeth Sinclair
                2.                                                                             vi             Norman MacIntosh b. ab1793.
                                                                                                vii            Ann MacIntosh
                                                                                                                                She married Malcolm McNeil .
                                                                                                viii           Flora MacIntosh.
                                                                                                                                She married John Morrison
Second Generation
                                                                2.             Norman MacIntosh, (1.John1) born ab1793 in Scotland, died 1873 in NB, aged ab 80yrs buried in MacIntosh Hill next to Black River, NB.
                                       He married Flora MacIntosh, born ab 1800 in Scotland, died 1881 in NB, age about 81 yrs buried in MacIntosh Hill next to Black River, NB. I am not sure of the parentage of this Flora who is supposed to be a MacIntosh. Is she a relation somehow to her husband or not.
Norman was the youngest son of John & Euphemia MacIntosh, born in Scotland about 1793. He may have accompanied his brothers David and Donald when they came to New Brunswick in 1817 or may have come later, but in any case he was there by 1826. On 11 February of that year Norman petitioned for land at Black River:
"Norman McIntosh ... a married man with three children ... born in Inverness-shire in Scotland ... [petitions for] an allotment on the north side of Black River (or Meseogues) at Buctouche in rear of land granted to Finley McIntosh and the next lot but one on the eastward to that granted to David McIntosh."
There is no record of the grant being given, but Norman apparently lived at Black River adjacent to his brother David In the 1861 Census returns for Wellington Parish, Norman and his family appear immediately after David's.
By 1871 the aging Norman and Flora had moved to Galloway to live with daughter Sarah and son in law Samuel McLellan.
Norman passed away in 1873 and Flora in 1881. They were buried in MacIntosh Hill next to Black River. Their gravestone was recovered in the 1970s and replaced with a common stone for him, his brother David, their wives and their mother Euphemia.
<![if !vml]>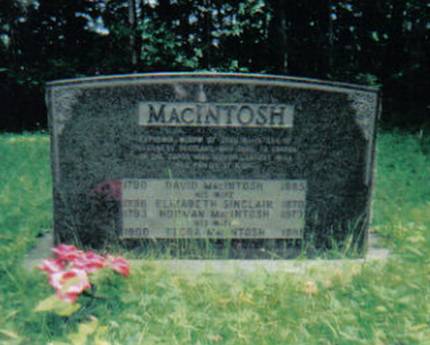 <![endif]>
                                                       Thank-you to Edna Thompson for sharing this photo- Edna is a decends from Ann MacIntosh (B.1809) daughter of Donald MacIntosh.
                                                                                                                                Children:
                                                                                i               David MacIntosh, born ab 1822 in NB.
                                                                                ii              Euphemia MacIntosh.
                                                                3.             iii             Sarah MacIntosh b. ab 1827 in NB.
                                                                                iv             Finley MacIntosh, born ab 1834 in NB, died 1915 in Pennsylvania, US, buried in Emporium, Cameron Co., Pennsylvania.
                                      Margaret and Finley had 5 children (Margaret 1861-? Norman 1861-1931 married Annie O. Carter(1876-1958) Emporium PA, Flora 1867-?,James 1871-1950, Maud 1888) I suspect the birthdate of Maud to be off as Margaret would have been 60 yrs when giving birth?? Unlikely.
                                                      He married Margaret McLelland, born 1828, (daughter of James McLelland and Margaret Douglas) died Mar 19, 1900 in Galloway Cemetery, Kent Co, NS.  Margaret: Buried Galloway Cemetery Kent Co, NB died age 72.
                                                      See James McLelland for continued McLellan descendants
                                                                          v              Neil MacIntosh, born ab 1841 in NB.
                                                                                vi             Isabell MacIntosh, born ab 1843 in NB.
Third Generation
                                                                                3.             Sarah MacIntosh, (2.Norman2, 1.John1) born June 06, 1827 in Bouctouche, Black River Kent Co, NB, died Sep 24, 1911 in Galloway, Kent County NB.  Sarah is buried in Galloway Cemetery next to husband Samuel McLelland d Sep 26, 1911 age 84. Making her birthdate about 1827. Also a death record found at NB provincial archives Mrs. I McLelland d. Sunday Sep24, 1911 aged 84 yrs. birth place Bouctouche (Black River) Kent Co. NB. Not sure why listed as Mrs. I McLelland Sarah also listed on 1871 census age 44 and on 1891 census age 64.
                                                                                1901 Census NB
                                                                                                41   6 McLelland Sarah F   Head W Jun 6 1827 74 PANB  living in household 6 next door to son Robert and family in household 7.
                                                                                Is she Sarah MacIntosh or…. Sarah Miller….. Another puzzle.
       She married Samuel McLelland, born 1825 in Galloway, Kent Co, NB, (son of James McLelland and Margaret Douglas) died June 19, 1895 in Galloway, Kent Co, NB.  Samuel: Buried Galloway Kent Co, NB d June 19, 1895 age 70 buried with wife Sarah MacIntosh. Also a record of Death found at NB provincial archives Samuel McLelland died Friday June 28, 1895 aged 66 yrs death Galloway Kent Co, NB birth Galloway Kent County NB. Information from Ross Dickson 1871 census included 6 children. He was listed on 1871 census age 46, Also on 1891 census age 66.
                                                                             Children:
                                                                i               Robert McLelland, born Ab 1858.  Age 13 on 1871 census, listed on 1891census with parents Samuel age66 and Sarah age64. Robert age 32 possibly a wife Sarah age 28. and ?.
                4.                                             ii              Norman McLellan b. April 1, 1861.
                                                                iii             James McLellan, born ab 1863 in Rexton Galloway, Kent Co, NB.
                                                                iv             William McLellan, born ab 1865 in Rexton Galloway, Kent Co, NB.  listed on 1871 census age 6.
                                                                v              John McLellan, born ab 1866.  listed on 1871 census age 5.
                                                                vi             Flora McLellan, born ab 1868 in Galloway, Kent Co, NB.  Listed on 1871 census age 3.
                        See James McLelland for Continued McLellan Descendants
                                                                                                                                                                                                                <![if !vml]>

<![endif]>